You would think in Richmond where Asian cuisine reignes supreme (Iron Chef America reference anyone?), it would be very easy to find authentic, homestyle Korean cooking. But nope, there are very few Korean restaurants like that. That is, until I found out about Haroo.
Beef Haemul Sundudu ($9.95)
which is a traditional tofu soup. The clear broth surprised us as we were completely expecting a red and spicy broth.
Dukboki ($13.95)
was actually quite expensive but we ordered it anyways because we heard good things about this place. It definitely did not disappoint. The red chili taste was not overwhelming spicy but still gave a good kick at the end.
Overall, the food here tastes just like your Korean friend's mom's cooking so it is incredibly comforting and welcoming. The prices are a bit steep for dinner so I would suggest coming here for lunch if it is your first time.
Service Rating:
4.5/5
Food Rating:
4/5
Price:
$$
Overall Rating: 4/5
Happy Eating!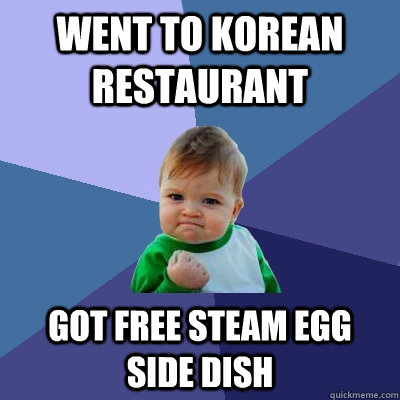 <-- if you've been to Korea before, you'll know what I'm talkin' about
courtesy of http://www.quickmeme.com/meme/3oqeu5/