Over the long weekend, Meta Knight and I had the luxury of going to Sin City for a few days. To be honest, when I think of Las Vegas, I usually think about all the good food/ buffets that are waiting for me (and my expandable belly) before I think about anything else. So needless to say, that is what we did... We ate. A lot.
Wynn
but it was comfortable enough to enjoy a long and relaxing meal.
buffet at River Rock Casino
, I mentioned that my goal for every buffet is to start off with a soup and salad. So for anyone that cares, I stuck to it even in Vegas *pats on back*!
Banana foster and bread pudding.
Sugar free cheesecake.
I owe Meta Knight an apology because I prevented him from getting one of these chocolate eclairs during the beginning of our meal, but by the time we actually wanted dessert, it was all gone!! :( He was le sad.
All in all, the Bellagio buffet surpassed my expectations and I will most certainly come back whenever I return to Viva Las Vegas. For $31.99, it is a steal and is a much better value than a lot of other buffets that are well over $40 for dinner.
What are your favourite buffets in Las Vegas? Let me know in the comments below!
For a list of my Vegas eats, check it out here:
Jean Philippe -
post
Wicked Spoon Buffet -
post
Hard Rock Cafe -
post
Lobster Me -
post
Earl of Sandwich -
post
2nd post on Bellagio Buffet -
post
Service Rating:
4/5
Food Rating:
4/5
Price:
$$$$
Overall Rating: 4/5
Happy Eating!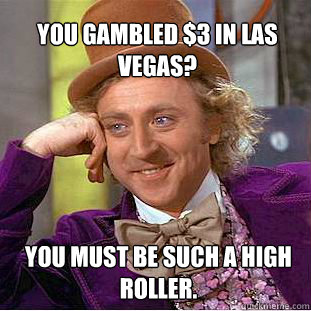 <-- this is me.
courtesy of http://www.quickmeme.com/meme/3pj3em/